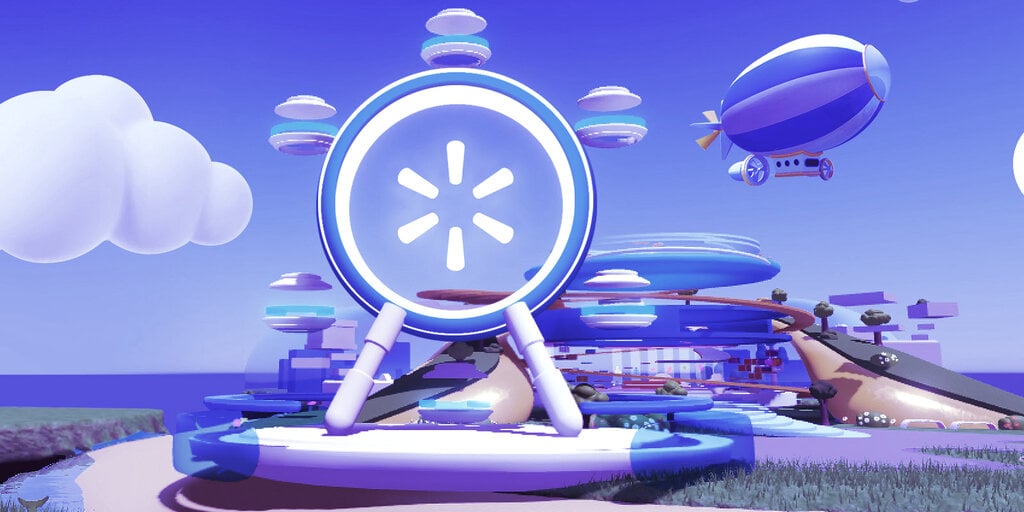 In brief
Walmart has launched online game worlds in Roblox, a popular Web2 gaming platform.
The retailer previously filed for trademarks related to the metaverse and cryptocurrency.
Brands are making bets on the metaverse—the immersive, future internet—and retail giant Walmart just joined the party today with the launch of two worlds in Roblox, a popular massively multiplayer online game.
The American retail chain created "Walmart Land" and "Walmart's Universe of Play" within Roblox, which has surged to new levels of popularity amid the COVID-19 pandemic. Roblox claims to have some 52 million daily active users, and the platform hosts millions of 3D games and worlds primarily created by users.
To be clear, Roblox is not a Web3 game—it's not built around NFTs, nor does it feature cryptocurrency. It's a traditional Web2 game built around user-generated content. Some call that type of online shared world game a "proto-metaverse," given that it has a closed ecosystem and is a precursor to future metaverse worlds that may be more open and interoperable.
Still, this could be seen as a first step into online worlds that eventually leads the retailer into Web3 metaverse games built around NFTs and other crypto technology. CNBC reports that Walmart Chief Marketing Officer William White described the Roblox worlds as a "testing ground" (the publication's wording) for future metaverse moves.
Could we see Walmart enter the Ethereum-based Decentraland or The Sandbox in the future? Time will tell on that front, but Roblox marks the company's first attempt to turn its brand into interactive online gaming experiences. Late last year, Walmart filed a number of trademark applications related to cryptocurrency and the metaverse.
"We're focusing on creating new and innovative experiences that excite [customers], something we're already doing in the communities where they live, and now, the virtual worlds where they play," White said in a release.
"Walmart Land" is an online playground that hosts concerts, Netflix-themed trivia challenges, and fashion shops that offer digital apparel from real-world brands. Meanwhile, "Universe of Play" brings together entertainment brands like "Jurassic World" and "Paw Patrol" via digital toys and other activities.
Numerous other brands have launched their own game worlds in Roblox and Web3 metaverse platforms, including heavyweights like Nike, Coca-Cola, Wendy's, Gucci, and Adidas. Meta, the rebranded parent company of social media giant Facebook, is also making a major metaverse play built in part around its Oculus VR platform.
Stay on top of crypto news, get daily updates in your inbox.