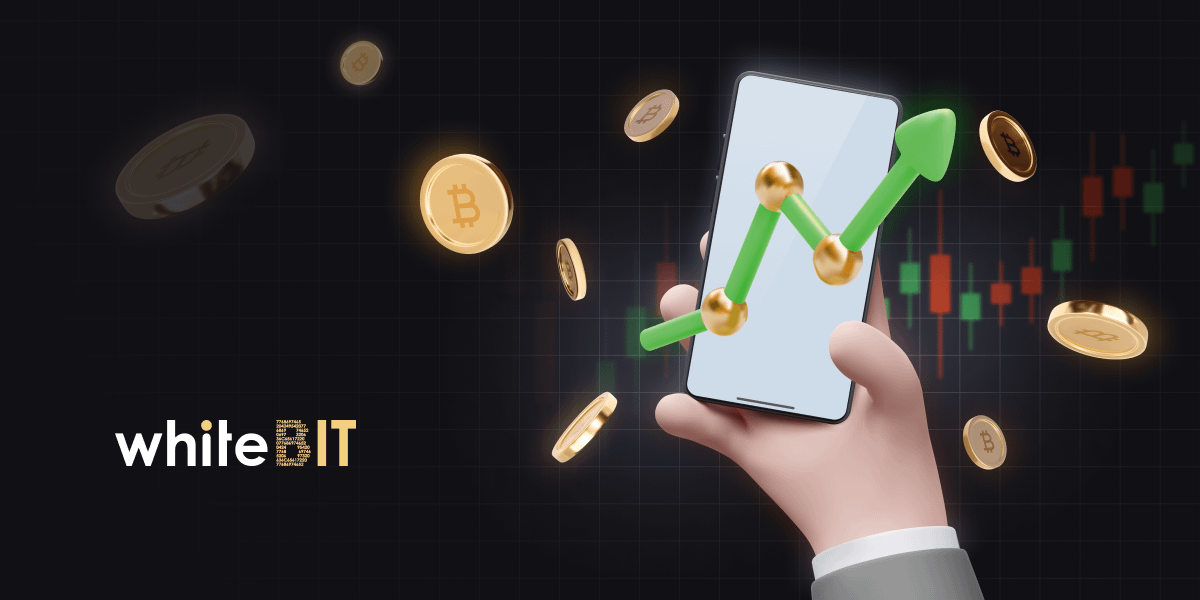 The cryptocurrency market came in existence not that long ago, and yet it has already given many people the opportunity to earn. However, traders need to find a reliable crypto exchange and avoid scammers.
In this article, we will overview a rapidly growing WhiteBIT platform. It allows you to trade with 250+ cryptocurrencies, including the popular BTC, ETH, LTC, and DOGE. Here, you can not only buy crypto for state currency but also exchange it, trade, and earn passively with it. Let's discuss all the opportunities of this platform!
What is WhiteBIT, and why should I use it?
WhiteBIT is a centralised European cryptocurrency exchange from Ukraine. It has over 2 million customers globally. The platform offers 450+ trading pairs with well-known assets, 30+ of which are pairs with the state currency. The average daily trading volume is $1 billion.
The platform offers a variety of services to its customers. Here are some of the most prominent:
WhiteBIT supports 250+ assets (including DeFi tokens) in 450+ trading pairs. The platform also has Demo Tokens – free virtual tokens that can be used to practice trading.
The platform allows conducting transactions using borrowed funds. Such order types as Limit, Market, and Trigger-stop-market are accessible for margin trading. People can trade with up to 20x leverage.
It is a unique tool of the platform designed for efficient passive income earning. The user can buy cryptocurrency, hold it in one of the available plans for 10, 90, or 360 days, and earn a predetermined percentage.
You can invite your acquaintances to the exchange using a particular link and receive 40% of the trading fees paid by them.
It is a free demonstrative virtual asset that helps get acquainted with the platform's tools, test them, and learn how they work.
Is WhiteBIT a safe Crypto exchange?
Security is a key priority of the WhiteBIT cryptocurrency exchange. It has an AAA rating and enters the Top 3 safest trading platforms according to cer.live and Top 2 best-secured exchanges based on an independent Hacken audit.
The high level of safety and reliability is achieved due to:
two-factor authentication. It provides an extra protection to your account. Besides, if you use it on top of the password, you need to either enter a code received via SMS or application;
identity verification. Simply put, it is the process of user verification that is needed for safety reasons. The exchange inquires personal information from the person to provide better security, prevent money laundering, and finance terrorism.
In addition to the abovementioned, over 96% of users' digital assets are stored in cold wallets.
Trading fees
The standard transaction fees at WhiteBIT is 0.1%. It may be lower for some pairs, but can't exceed 0.1%. This is competitive for the industry, as most other exchanges charge between 0.20% and 0.25%.
How to set up an account on WhiteBIT
First, you must create an account to start trading on the exchange. Here is how to do it:
click 'Sign Up' in the top right corner of the Main menu;
enter your e-mail and a password in the corresponding space;
tick the boxes to accept the User Agreement and Privacy Policy;
push the 'Continue' button;
complete CAPTCHA;
confirm your e-mail by the verification code input. That's it!
You should verify your identity if you want to access all features, including state currency deposits. You will need a photo of your passport, ID card, or driver's license and a selfie with this document to do this. Additionally, you will need to fill out the profile with information about your full name, gender, date of birth, and address. All this is required to protect you from fraudsters.
After passing the verification, you should make a deposit to your balance to buy and sell cryptocurrencies. Notice that platforms commonly charge deposit fees. For most exchanges, fees will vary from 0.5% to 5%, depending on the chosen currency and deposit method.
WhiteBIT is a good option for newbies and skilled market players. It has all the features and opportunities for efficient trading. The platform offers margin trading with up to 20x leverage and standard trading. People can make their trading even better with a professional, customisable platform. At once, WhiteBIT also fits the beginners, offering various payment methods for buying digital assets.
The above information does not constitute any form of advice or recommendation by London Loves Business and is not intended to be relied upon by users in making (or refraining from making) any investment decisions. Appropriate independent advice should be obtained before making any such decision. London Loves Business bears no responsibility for any gains or losses.